Dunkz - Rosin Infused Preroll - Randy Watson x Waffle house - 2 Grams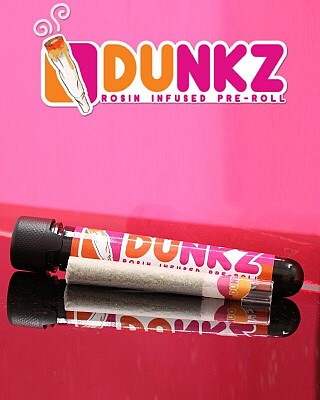 Hold your finger over the image
Dunkz - Rosin Infused Preroll - Randy Watson x Waffle house - 2 Grams
Elevate your smoking experience to unparalleled heights with Dunkz - our premium 2-gram blunts crafted exclusively for the true cannabis aficionado. Dunkz blunts are not just any regular roll, but a luxurious fusion of the finest exotic flowers combined with the potency and purity of rosin infusion. Every puff delivers a robust and aromatic bouquet of flavors, unrivaled by any other.
But that's not all. Our commitment to ensuring an authentic, premium experience means we use only real, hand-picked buds in our blunts. No shake, no compromise, only the cream of the crop. Infused with the richness of high-quality rosin, each draw from these blunts offers a potent and immersive experience.
Finished with a sleek glass tip, Dunkz blunts ensure a consistent flow and a cooler, smoother hit with each inhale. The glass tip not only adds an element of luxury but also acts as a barrier, preventing any resin from reaching your lips, allowing for a clean, uncompromised session.
While Dunkz carries a price tag of $55 (tax included), it's an investment in unparalleled quality. It might seem a bit on the steeper side, but one puff and you'll realize it's worth every penny. It's more than just a blunt; it's a statement, a commitment to quality, and a promise of an unmatched smoking experience. Don't settle for less when you can have the very best. Experience Dunkz today.
Dunkz blunts are for those who appreciate the finer things in life, and understand that when it comes to cannabis, quality and craftsmanship make all the difference. So, light up a Dunkz, and dive deep into a world of flavor, potency, and luxury.